Why do business in Latin America ?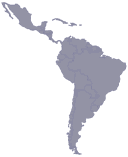 Latin America, the Americas continent south of the Rio Grande, has slightly more inhabitants than the whole of Europe and some of the largest cities in the world. In addition, at twice the surface area of Europe, it is huge, with many large markets still a very long way from saturation point. Despite the cyclic nature of some latin economies, the sales potential generally remains good for the right product correctly presented at the right time.
Geographically speaking, Latin America is a fairly long way from the United Kingdom, but some of the English-speaking nations of the world that we British have come to look upon as our natural markets are even further. Although distant in terms of miles, most latins feel a close affinity towards european culture. British businesses are welcomed the same as those of any other nationality. Contrary to the beliefs and wishes of our north-american cousins, Latin America is no one's private backyard.
That said, doing business in any overseas market is seldom straightforward. Each has its own idiosyncrasies and unique frustrations. But this has not prevented many foreign companies, including a large number from Europe, from trading successfully in Latin America. You should not allow it to prevent you from trading.
A number of information sources and agencies exist which offer help to companies wishing to trade in Latin America. But we believe we offer the most complete service, ranging from market research and mailing lists, through political lobbying to through-the-door representation. We will help you to develop the business or we will develop the business for you and hand it back to you later or we will develop the business and manage it for you. It all depends on what you would like to.
If you would like to do business in Latin America or, if you are already doing some business but would like to do more, we can help you with business development strategy, sales channel establishment, marketing, exhibitions, order processing and miscellaneous support. Click on one of the buttons in the side panel for further details.
To contact us, simply email us at enquiries@bdla.co.uk. We will get back to you for an informal chat. You are equally welcome to write or telephone us.
Stewart Wittering

Managing Director